The Beatles In Cleveland with Dave Schwensen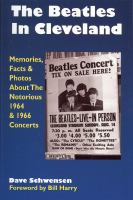 Relive the excitement of Beatlemania as John, Paul, George and Ringo visit Cleveland for two of the wildest concerts in Beatles – and rock 'n' roll – history. On Thursday, May 11 at 6:30 p.m., author Dave Schwensen will take you behind the scenes with the Fab Four through rare concert films and insider stories. The evening's highlights will include films of The Beatles riotous concerts at Cleveland Public Hall in 1964, and Cleveland Municipal Stadium in 1966. Doors open at 6:00 p.m. with a display of never before published photos and memorabilia.
Dave's book, The Beatles In Cleveland: Memories, Facts & Photos, About The Notorious 1964 & 1966 Concerts, will be available for $10.00 following the program.
Register for this program online or by calling the Reference Desk at (440)988-4230.